How would you describe the difference between minimal, light, minimal to light and slightly when it comes to the absence of details in the picture on your television screen when playing back a progressive signal, 720p at 50 Hz, via your YPbPr input?
If you manage to figure out, you can understand what I have to go through at work sometimes.
Anyway, let us head over to something slightly more simple, tea time treats. What is a tiny little tea time treat for you?
I don't know about you, but I dare to call these Ginger and Lime Shortbread Sandwiches a tiny little tea time treat.
First of all, we need some Lime curd. No worries, we can do it ourselves ...
Ingredients (Lime curd):
6 limes
200 g sugar
120 g butter
2 eggs
2 egg yolks extra
Method (Lime curd):
Thoroughly wash the limes under hot water. Afterwards grate the lime zest into a bowl, that you can put over simmering water later on. Get this lovely juice out from the limes into that very same bowl as well.
You can add the sugar and butter as well and put it now over slightly simmering water. Stir it all until the sugar has dissolved and the butter has ... eh ... melted.
Whisk the eggs and egg yolks together and push them through a sieve into that bowl as well. Keep on whisking. In fact, do so until the lime curd thickens.
You might want to prepare some sterilized jars or jar to keep the lime curd - the part you don't need for the shortbread sandwiches - save.
So far to the lime curd. Next we proceed with the shortbread.
Ingredients (Shortbread):
300 g flour
225 g butter
75 g sugar
Zest of one lime
Thumb sized piece of fresh ginger
Method (Shortbread):
Beat the butter, sugar and lime zest together. Grate in the fresh ginger. Beat a bit more. Then sift in the flour into the bowl. Bring it all together. It's best to use your fingers. We don't want a minimally, lightly, minimally to lightly or slightly smooth dough, but a smooth dough.
Roll out your dough to slightly below one centimetre thickness. Using a round cutter, cut out disks. Cut out a small hole in the middle of half of the disk. Re-roll your dough annd repeat until all the dough is worked into round disks or until you are fed up. Judge for yourselves. You place the disks and whatever else on a baking tray lined with baking parchment. Then you might want to sprinkle some sugar over the shortbread.
Bake the shortbread at 180
°C for 20 minutes or until it looks right. Of course, then you remove it from the oven and let it cool down. If you have worked the same way as I did, you can enjoy some shortbread fingers before you proceed ...
Once you have achieved the difficult task of patiently waiting for the shortbread to reach its destined temperature, you can spread some lime curd on the bottom disks for the shortbread sandwiches. Guess, which part that is!
Gently close the sandwiches with the top parts.
You are ready to enjoy your tiny little tea time treat, if you wish so.
Do you need more than a tiny little tea time treat? Then you might want to consider checking out the January Tea Time Treats challenge, which is hosted by Lavender and Lovage and the The Hedgecombers. To be precise, it's this way ...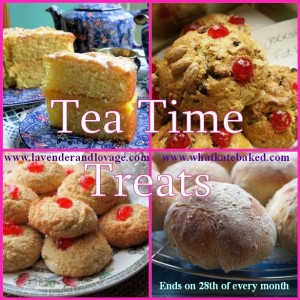 I don't know, what you are doing, but I join.
Then I like to join Javelin Warrior's Made with Love Mondays as well ...
And then ... I like to have a tiny little treat. What do you say?