The quest for making good use of the plums I received is still going on. As you know, there are quite a lot of things you can do with them. I already did the recipes which take a great amount of plums like jam and plum butter. I even made a plum chutney.
Now, cake and jam and things like that are the logical choices for going with plums. Things you would think of right away. Therefore I try to do something else ... kind of pairing the plums with cheese, goat's cheese to be precise, in a risotto. I've heard it before you can do it also with pearl barley. Let's try it then and have a Goat Cheese and Plum Pearl Barley Risotto.
Originally I planned to use feta cheese for this, but then I realised that using the goat cheese I had still in the fridge would be lovelier still. Here we go ...
Ingredients:
A splash of olive oil
One onion, finely chopped
60 g bacon (or veggie bacon or no bacon at all), cut into small pieces
250 g pearl barley
A few splashes extra dry Vermouth
1 l beef or vegetable stock
6 plums, cut into 8 pieces each
100 g goat cheese, cut up
Leaves of one sprig of rosemary, chopped up
A knob of butter
Salt and pepper
Method:
We start by heating up the olive oil to a low heat and softening the onion. After a while we can add the bacon (if using) as well. Let things go for a bit more.
Make sure the beef or vegetable stock is hot. Make the pearl barley join the onion. Pour in the Vermouth and let it cook away.
Now it's time for the stock. Add one ladle of it at a time and let it be absorbed by the pearl barley before you add more. You might take into consideration to turn the heat to medium.
Keep working with the stock until everything is gone. Don't forget to stir quite often.
Once all the stock is used up, it's the time to add the plums, cheese and rosemary. Stir through and mix it well. Then get the knob of butter on top of your risotto, turn the heat to low again and put on the lid. It's time to rest. No, not for you. Or was the stirring too much for you? Anyway, let the risotto rest for two minutes.
Said and done. Remove the lid and season with salt and pepper as you deem necessary. One final stir and it's time to plate up.
While shopping last time I happend to stumble upon the red version of Federweisser, which I had a few posts ago with the onion cake. The red version is called Roter Sauser. I never had that one before. So I decided to have a go and drink it for this meal. It was lovely, too.
As I am trying all the recipes here mostly on my own, I have to like them always. Hm ... eh ... I would never throw food away, even if it doesn't taste too good.
Gladly, I didn't have to suffer in any way with those one. In fact it was very delicious. I liked it very much. You know, there is only one way to find out, if you like it, too. No, it's not an invitation to dinner at my place, although I wouldn't object, if it was that easy. Right, you have to try it for yourself.
Now, there is a lovely blog challenge, I like to take part with this post. You find it at Lavender and Lovage. It's Cooking with Herbs.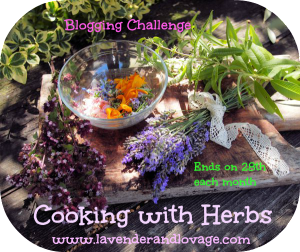 Right, I used some rosemary in this dish. No, I didn't just add rosemary to take part. The rosemary added a lovely flavour to the pearl barley risotto. Above that, there is another reason I used it. I'm not going to have this fresh rosemary for much longer. For one, the winter will not treat it nicely and I am leaving my garden behind anyway. It's time to move on ...