This is the day you all have been waiting for! Right, only if you followed or joined or joined and followed the Bloggers Around the World - World Cup 2014 - Brazil challenge. It has been a few weeks of intense football cooking action kind of action in the kitchen and ... beyond. Now, there are only a few things left to do while I type things away until my fingers start to bleed and my brain starts to say 'no more, no more'.
However, first things first and last things last and a lot of cooking in between ...
First of all, I wish to thank everyone for their great support. So, thank you very very very much Galina, Cheryl, Vohn, Caroline, Ruth, Alison, Deon, Gayathri, Karen, Anchu and Catwoman. It has been a lot of fun with you and I hope we can do such a thing again in the future.
Besides that, one of you has won a lovely price of some lovely chocolate. For me, though, you all deserve it. However, as the rules go, there can only be one winner. Obviously, that one is not Catwoman. In order to find out, who the winner is, you have to bear with me for a while.
Another thing we have to find out is, which country made it to be the winner of the Food World Cup. Before we like to kick that off, we need to get you in the mood with a few recipes from the host of the event, from BRAZIL ...
One of the most popular dishes in Brazil is Feijoada. Lovely Galina from Chez Maximka saw that, too and so she gave us her version of it.
Now, before you think, it's just beans and all and it will give us all a lot of wicked air, try Cheryl's
Fruity Brazilian Burgers with Coleslaw
. If you love burgers, you will love that one, too.
Then again, you could have a Brazilian Potato Salad, too. Let Galina introduce you to such a delightful version ...
Next comes another famous Brazilian dish I already had my eyes on. However, there was one lady, that was a bit faster then me. No, I'm not complaining. I could only complain about me as being Captain Slow, but hey, why should I. Here I have a wonderful recipe for Vatapa, a creamy fish/prawn stew, I can still try any time I feel like it.
Another one to tune you in for Brazil comes all the way from Scotland and from Vohn and Vohn's Vittles. Well, originally it was supposed to bring you happiness in a cold winter, but it will bring you happiness now, as well. Try some Papaya and Melon Jam.
Vohn has something else going for us, Brazilian slow-roasted lamb. That made me very hungry the moment I read it. Additionally I was due to get some food at that time.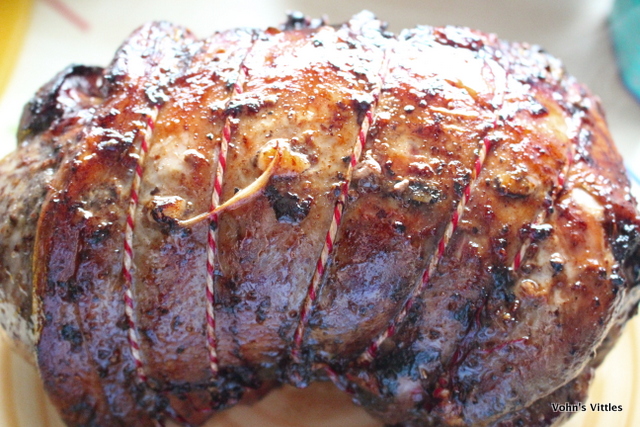 Care for a drink now? Then let Vohn serve you Strawberry, Melon and Mint Sucos.
We are not yet ready to start properly, there is still one more Brazilian post of a non match day kind. Cheryl gives us Beef Churrasco & Farofa.
So far to the the prologue for our event. Now we are going to kick it and I'll give you the countries in ascending order until we get to the winner ...

In the real World Cup itself Honduras just scored one goal and ... strangely ... we also had just one entry for HONDURAS.
However, it's just a coincidence, that Cheryl felt the recipe she tried for Honduras was a total disaster. In this case, though, there is still the opportunity to adjust the settings to get a different outcome, whereas you can't change the fact that Honduras didn't make it too far with the World Cup. What am I talking. Have a look at Cheryl's recipe for Pupusas from Honduras. I still feel the name has something intriguing ...
Now to the ones that fought a little bit harder. Did they? Ah, of course, it was due to your amazing efforts to give them a higher ranking. So let's continue with the group of two ...
I don't know whether it is essential to have chicken for a proper Portuguese meal, but here we go again with chicken. Caroline has a Piri Piri Chicken recipe for us. By the way, do you know what's the difference between Piri Piri and Peri Peri ... apart from the obvious difference of the two 'i' and 'e'?

So far regarding Portugal. Let us move a bit to the East, well a bit more even. That will lead us to KOREA.
Cheryl has something for us, I have never heard of before: Japchae. However ... have a quick guess ... yes, chicken is involved here, too. At least we are familiar with that.

... we continue with ECUADOR. There is also a song with that same title, but most probably you don't know it. In fact, you don't need to know. Something more noteworthy, though, are the Potato Cakes with Peanut Butter Sauce.
Oh, I guess I still have to do some workouts to work that pie off.
Over to Alison for Algeria's kick out dish. Well, it was for their last game and the post actually contains another recipe for the country that played Algeria on that day. What am I saying? Ah, have a look at the next picture, the carrots are Algerian-style. More about this post at a later time, though ...

The country next in line for presentation is COSTA RICA. They fought hard to stay a bit longer in the competition, but there was not too much cooking in that direction. Nevertheless, let me tell what we had there.
I showed you what the day to day married life could be like in Costa Rica when it comes to food. The name of the dish: Casado.
You might not have freshly harvested peppers, but you still might want to try Cheryll's dish from Costa Rica: Chile Rellenos Casserole.

Wow, we already made it far, but ... we haven't even started properly yet. There is still a lot more to come as we go to the next group ...

We couldn't really know how this World Cup challenge would develop when it all started with the first match Brazil vs CROATIA.
At the beginning it started firing Croatian recipes. First off was Cheryl with her Torn Underpants ... ahem ... that is the name of the dish, when you translate the name into English. Otherwise you can just call it Kiflice.
On that very same day I brought you Fritule, nice little balls to snack away or play food football with by kicking them into your mouth.
Alright, we also have something savoury for you. Galina made some Cevapi for us. While we are at it, I have to mention something Galina might not like, but there are voices saying, that some of the Cevapi "look like poo". Anyway, that wouldn't deter us from trying ...

From this incident we like to move over to Down Under, to AUSTRALIA.
Because of that Vohn offers us her favourite Aussie dessert, a Spring Pavlova. While there we get a little bit of background information about pavlova and the opportunity to judge whether less is more.
Onward with more cake. Here my Surfer Cake has to do for Australia as well. By the way, do you think surfing is more fun than football?
To round things off here, Cheryl adds some ANZAC biscuits to the sweet collection for Australia.

THE NETHERLANDS stayed right to the end in the World Cup and managed place 3, here it managed 3 entries.
One of those three was Cheryl's version of the Hairy Bikers' Dutch Apple Cake.


Then we have to leave for another country. We are at 4 here. That very country is BELGIUM ...
Here we start with a dish from the miller's wife ... eh ... with a dish from Caroline, which is called Sole Meunire, which means that the fish in this recipe is cooked the way the wife of the miller would have done. We don't know, though, exactly which miller. The only thing we know is, that he is from Belgium.
Maybe afterwards you would love to have a piece go Galina's Belgian Apple Tart. I would!
Somewhere on my blog you will find a Belgium recipe for Stoemp ... you know, no confusion here, please.
Finally, we got another savoury dish for Belgium ... from Cheryl this time. It's beef in ale and we call it Beef Carbonnade. For sure I would enjoy this one, too.

We have already travelled a lot, but we are still hungry for more. Well, then it's time to go to RUSSIA ...

The first dish to present to you is from Caroline. It's Russian Shashlik Kebabs. It's a lovely thing with sticking chunks of lamb and vegetables. Judge yourself ...

Don't cry for me ARGENTINA. Fine, they made it right to the final of the World Cup, but it wasn't enough to get the Food World Cup title. Well, every World Cup has its own rules and so did our little challenge.
'Have I said too much? There is nothing more I can think of to say to you. But all you have to do is look at me to know that every word is true.'
On then, here are the entries for Argentina ...
Caroline has something sweet for us: Pionono Dulce de Leche. I just love the sounds of it. After all I know what dulce de leche tastes like.
Or would you rather like to have a Steak with Chimmichurri. Caroline can offer that as well. Have a look!
Others have attempted chimmichurri, too. Read a story of failure and success as Vohn turns her Mint Chimichurri into something else. Well, you have to read it to find out what it is, this is the Mint Chimichurri ...
You can also have an Argentinian Potato Salad, if you wish. At least this is what Cheryl has made for us.
Something to feast on comes from the wonderful and lovely Karen from Lavender and Lovage: Argentinian Picada. For sure there is something on the plate to satisfy everyone.

Now that we had those lovely recipes, we climb up the ladder to the countries with six entries. Yes, I know it's keeping to get more and more and more and more ... eh ... just go on then with ...

ITALY ... everyone loves Italian food. You eat it all over the world, I'd say. So, no wonder Italy is up here.
Apart from pasta, focaccia is also always something lovely Italian. Therefore, behold Galina's Focaccia Ripiena.
Back to Caroline and back to pasta with Spaghetti Bolognese. The recipe is from her almost-first cookbook.
I reckon after all this, there is some time for ... a salad. Galina has the right thing for us: Insalata Caprese.
However, Galina has more for us, although she wasn't so happy that day, when she posted something for the loosing team. Nevertheless, the dish looks totally gorgeous with those flowers in it. Welcome, Spaghetti Primavera! (although we have summer right now)
That means now we have to leave Italy and travel on. By the way, do you know how many times I already nearly pressed the publish button while writing this? I hope I can make it to the finish without pressing that button in reality.

The next stop is GREECE. Oh, that wasn't too far away. So get ready for some delicious Greek recipes ...
A lovely starter comes from Cheryl with her Dolmades (Stuffed Vine Leaves). Do you think you could roll them up, too? See what they taste like ...
The next dish in line somehow sounds like fusion: Baked Prawn Enchiladas with Feta Cheese by Caroline. Hm ... that sounds Mexican to me, but ... hey ... there is feta here and we all connect that with Greece.
Don't think that Caroline and Cheryl are just taking turns here, but we like to continue with Cheryl and Greek-Style Lamb, Potato & Thyme Kleftiko. Oh, would that be lovely now ...
Now we stay with Cheryl and have a Tart with Tomatoes, Olives and Capers ... another mouth-watering dish.
Somehow I get the feeling Mexico and Greece go well together. See for yourself as you go for these gorgeous and yummy Mediterranean Quesadillas from Gayathri.
Cheryl has a very savoury one for us: Lentil Stew, Abernmauke and Sausage. The second part of the name signifies mashed potatoes. There are many more expressions in Germany for that, too. Find out ...
Don't ask any questions now, but just do it and keep the next entry in mind for a while longer. You will see in a minute, why. Vohn brings us German Bierocks by the Hairy Bikers. No, I'm not hinting to the Hairy Bikers joining us again for the World Cup. Anyway, I would love to try that recipe as well.
I had been experimenting a bit with Black Forest cake a while ago and I thought I enter this one for the World Cup: Mini Blackforest Gateaux.
We already had one half of Alison's following post for Algeria, here it comes now for Germany with Pork Schnitzel.
Basically, the next entry from Vohn might look a bit familiar, but don't be deceived. This time it's German Sauerkraut. You notice, there is less colour than with the Korean Kimchi.
Next we got another of my posts: Chanterelle, Medallions of Pork and Fried Potatoes.
Over to Cheryl ... still pork ... but it's quick ... Quick Breaded Pork Chops.
So, did you do as I told you before regarding the Bierocks? Good, you are very obedient. I like that. Now look at this entry from Cheryl: Hairy Bikers' Meat & Cabbage Buns (Bierocks).
Cheryl then also has one of the last ever posts for our great World Cup party: Apple Strudel.

Now we are almost done, two countries left and ... of course ... we still have to resolve the chocolate issue. I only can tell you so far, that Catwoman didn't win the chocolate. The rest you will see for yourself, if you still have the endurance to read on ... eh ... why wouldn't you have.
There is no easy way of saying this. No matter how I put it, when I tell you the next country, you already know, which country won even before I mention it. Anyway, I am not too fond of the suspense building they do in these ... eh ... these ... eh ... these ... eh ... you know ... shows. Right, you already know now, which countries didn't make it to be the winner of the Food World Cup. Let me now tell you without any further delay ... what?
Sorry!
BRAZIL has been an amazing host for our event and if we would count all the entries on non-match days we had also in the prologue, they would have made it, but ... frankly ... they didn't.
The original idea for this Bloggers Around the World challenge was, just to have Brazilian posts, but I don't know what came to my mind and how and why, but I am sure, we are all happy that it did.
Having said this, it's time for Brazil's final appearance with ...
It was me myself, who had the honour to do the first entry for Brazil on a game day. The name of the dish: Filè á Osvaldo Aranha.
A fitting finish to an epic round-up!
I don't need to tell you that it took a little bit of time to write up this round-up. Yes, it's the same way as with cooking. Sometimes you stand for hours in the kitchen to prepare a delicious meal and then it is eaten up in a fraction of that time.
I expect nothing, but I hope you enjoyed reading it.
Oh, I don't know, though, whether it is a valid attempt on the world record for food blog challenge round-ups. Just for the stats and that's only if I counted right, which I am not so sure about, we had 136 entries. Just for the stats.
Thank you once more! I love you all!
Oh, you are right, there is still one thing to mention. It has to do with chocolate. I wasn't in any way planning to get around it, giving away some unspecified amount of chocolate.
Now we all would like to know as well, who is going to get some chocolate send from me. I already made it perfectly clear, it isn't Catwoman. We fully established that.
You can check the round-up again and you can only come to one conclusion: The winner is ... there is absolutely no doubt about it ... even without counting out the points properly, which I nevertheless did ... yes, it's true ... yes, the winner is ...